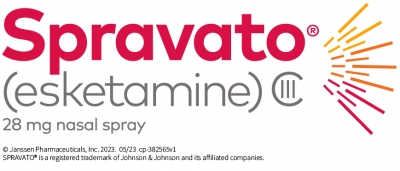 At Comprehensive Psychological Services, Spravato treatments are available in-office. This medicine is designed to treat severe depression symptoms that haven't been treatable with traditional antidepressants. Call us at 801-483-1600, EXTENSION 2 to schedule an assessment with one of our skilled medical providers who can determine if Spravato is the right choice for you.
WHAT IS SPRAVATO?
Spravato is a mediation for adults with treatment resistant depression (TRD). Spravato treatment may be warranted for adults that have struggled with major depressive disorder who have not responded adequately to at least two different antidepressants. Spravato treatment is painless. Our medical team is specially trained to administer and monitor this treatment option.
AM I A CANDIDATE FOR SPRAVATO?
You may be a candidate for Spravato if you have tried several types of oral antidepressants that were less than effective.
IS SPRAVATO EFFECTIVE?
Spravato has proven effective for treating adults with severe major depressive disorder (MDD), even with suicidal thoughts or actions.
The SPRAVATO is administered in our specialized outpatient setting. These sessions take about two hours. The treatment requires specialized medical supervision.
IS SPRAVATO SAFE?
Spravato is considered safe for use and is approved by the FDA to treat depression. It comes in the form of a nasal spray. Clients must be monitored during and after Spravato is administered to ensure the correct dose and monitor for side effects which may include:
• Dissociation (feeling out of body)
• Sedation (sleepiness, trouble thinking clearly)
• Dizziness and spinning
• Nausea and vomiting
• Anxiety
• Lack of energy
• Numbness
• Increased blood pressure
These side effects of Spravato are rare but common and not dangerous, if monitored, and stop after a couple of hours
IS SPRAVATO COVERED BY INSURANCE?
Many insurance carriers cover Spravato treatments. Our staff will work with your insurance company to help you receive Pre-approval for Spravato. For those whose insurances do not cover Spravato, our medical team has other similar options that are covered.
WHAT TO EXPECT DURING YOUR SPRAVATO TREATMENT
https://spravato.brightcovegallery.com/spravato-patient-video
A round of Spravato treatments generally takes about 2-3 months to complete. Spravato sessions are scheduled twice per week for the first four weeks, then once per week for the next four weeks, then every 2-4 weeks depending on its effectiveness. Your insurance company may limit the number of times it covers Spravato sessions. Again, we can assist in obtaining pre-authorizations or explore other options that are covered by insurers.
ADDITIONAL RESOURCES
Spravato medication guide and prescribing information
Spravato guide to treatment (PDF)
Spravato Patient Brochure
ASK THE EXPERTS?